Just who are England's Maddest Wrestling Show?
Their name is Rise Underground Pro Wrestling! Rise is an over 18's Wrestling Promotion with some of the best British Talent. The action is up close and personal with crazy and innovative storylines which keep you on tender hooks and wanting more! It is certainly a one in a kind experience.
We have attended Rise Underground Wrestling Shows since July 2017 with our very first show being the weekend long 2017 Ascent Tournament held at First Directs tattoo exposition. Since then we have and never will miss another!
Here is our review of their last three shows, but links of past show reviews can be found at the bottom of the article. They will all just prove to you where 'the maddest' comes from in their title and why Rise describe itself as 'not for the faint hearted'.
Point to the Sign & PPV After Party
Sunday 8th April at Brudenell Social Club, Leeds
The Brudenell is Rises answer to Maddison Square Garden, where you will find all their biggest events happening. The bar is reasonably priced and there is a van that has mouth-watering pizzas that even caters for vegans. It was a very eventful and action packed evening/early morning of 10 hours of wrestling. We not only had the live wrestling but the Wrestle Mania pay per view, emanating from New Orleans USA screening after the event. Rises popular master of ceremonies Johnny Santiago welcomed all of the early bird fans with his natural, charismatic, engaging personality and kicked off the night with a pre-show.
The Pre-Show
It all kicked off with Sean Only introducing Boy 2. The loud mouthed and disliked Boy 2 set an open challenge to anybody! He wasn't too impressed when the new, muscly, tattooed guy appeared called Mil Martinez who accepted his challenge. He got a great reception from the crowd. They put on a remarkable match and got the early bird fans pumped up for the night ahead. Our highlight of this match was when Martinez removed Boy 2's top after a fight to keep it on and the fans chanting "vegan nipples" as Martinez gave him a nipple twister.
El Ligero Vs Saxon Huxley
This was the battle of the already WWE UK star Saxon Huxley against the recently signed WWE UK star Ligero. This could very easily have been placed as the main event of the evening. Both men are equally talented, Saxon possess great strength and technical prowess as well as mystic fists. El Ligero is loved throughout our green and pleasant land and is renowned as being one of the hardest working men in professional wrestling. He combines speed, aerial assaults and accurate kicks amongst many other skills that make him the fantastic wrestler he is. Both men put in a show that truly embodied British Wrestling. However any wrestler can make a mistake and misjudge a move, like landing a moonsault on top of the videographer and knocking it out their hands. This added to the intensity of the match and no doubt added to great footage. At the end of the match both gladiators of the squared circle shook hands in respect of one another, only for El Ligero to stab the Muscle Cat in the back.
Six Person Rise Championship, Number One Contender, Elimination Match
This match was Rises version of an elimination chamber match which featured 6 participants. The rules were; two wrestlers to start then every minute or 3 (can't remember) a new participant enters. Once all six participants were in the ring the rules of the match would change every minute or 2 (can't remember this either!) The rule changes were…? (Guess what we also don't remember this!) But what we do remember is that it was a fun match from start to finish and the 1st two wrestlers were Gene Munny and Amir Jordan who both received the admiration of the crowd and proceeded to put on what can only be described as an old school exhibition match, with fancy schmancy flippy bits. It soon got down to business with the injection of the Voodoo Queen (who kicked ass just as well as the lads from start to finish) and Danny Darko. The real fun element of the match, came when the Pork from York Dom Black made his 'Livin La Vida Loca' entrance sporting a dicky bow tie and carrying flowers. He tossed his flowers off into the audience whilst getting frisky with his dance moves with every man and woman between him and the ring. There was a moment of dajarvu as Dom climbed the turnbuckle to enter the ring. At Rise Rumble he did the same, when he went for a splash on Amir and failed miserably! This time HE PULLED IT OFF! The next and last to enter the ring was Michael Caden but Kid Lux attacked him from behind and took his place. Once all six were in, the fun really started. Everyone ganged up on Dom delivering finishers, we had a triple person submission attempted and weapons were introduced to! The winner was Gene Munny who won a chance for the title at the next event.
David Graves
The music hit and David Graves appeared with something to say. He explained to us about the injury he had sustained during a different promotion. Whilst he addressed his fans he received some flowers from one of the fans which had been thrown into the crowd by Dom Black in the previous match. There were a few petals missing though as Kid Lux took a nibble on them. David seemed really down and explained in detail everything about his injury and said that this might be it for him. But he then soon jumped around said "hell no this is not it, I will be out for 6 months a year tops and when I am back I'm going to be bigger better and stronger than ever". The crowd went wild and gave him their full support.
BA Rose Vs Boy 1
For the second time in a Rise wrestling ring we had 'The Manhunter' BA Rose who was originally brought in by Sean Only to teach his 'Boy' number 1 a lesson. Boy 1 seems to grow in popularity every time he laces a pair of boots up no matter where he wrestles. This match was a show stealer BA Rose persisted on beating Boy 1 into the canvas, however the Boy did not give up and found innovative ways to manoeuvre around the ring and even get some of his signature superboy punches in. We would highly recommend watching this match which is available on the Rise Patreon page.
England's Hardest Men Vs The Brothers of Rage Vs The Lion Kings
This Triple Threat Match was set up at the previous show after England's Hardest Men took on the Brothers of Rage. The Lion King's arrived after the match and started pointing around the venue to signify they wanted a triple threat match at Point to the Sign. This was set and this was the result! The baby faced tag teams England's Hardest Men and The Lion Kings received volumes of admiration from the crowd, but the Brothers of Rage cocky and arrogant demeanour didn't go down as well. But do not let this take anything away from the Rage brothers as their work ethic and tag team skills are on par with the other teams. Benjii Rage and Joe Rage are big and little brother, we will let you decide which one is which. They use their physiques to their advantage, by using each other as weapons, by one of them throwing the other one around the ring. They have a great combination of speed and power. England's Hardest Men are the combination of the body builder Shreddybrek who brings the power and Luke Nixon who brings the pain through his kickboxing and boxing influenced style. The Lion Kings are the combination of Sebb Strife and The Ugandan Warrior Nsereko who are versatile in every way and add humour to every match. They add intelligence, intensity and velocity to the ring. All the strong points that these three teams possess, created one outstanding Triple Threat Match that spilt throughout the Brudenell. The match concluded with the appearance of Rory Coyle creating a distraction. What will become of this?
Little Joe Vs Danny O'Doherty
This match was to determine who would become the referee for the main event Deathmatch between Big Joe and current Rise champion Dr Leonardo Darwin. Little Joe is known as Darwin's illegitimate bas**rd son due to some time travelling antics. The whole of the Brudenell showed their fondness towards the bas**rd by chanting "w****r" in a hat due to him wearing a hat. Danny O'Doherty his opponent on the other hand received full appreciation from the crowd whist supping on a tinny. Danny stamped on the little ba**ards fingers and took the upper hand at the beginning of the match, however this was turned around once Joe got his hands on a tinny, took a sip and spat it in Danny's face causing distraction. This led Joe to become the referee for the evening's main event and placed the cards heavily in the Darwin s families favour.
Russian Chain Match
Boris Koslov Vs Sean Only
A bitter rivalry between both of these men has been going on for the best part of a year. They both have cost each other title opportunities, they have chased each other onto other promotions and beaten each other up at every opportunity. The match stipulation was set on the previous show 'Blackout'. However as you will find with Rise that nothing is conventional. It wasn't like your usual Russian chain matches where you drag your opponent to all four corners of the ring for the victory. In this stipulation, to gain victory you had to pin or submit your opponent. As Boris was chained up Sean took immediate advantage by utilising the chain as a weapon, hitting Boris with it and then strangling him. The match went outside the ring as well as both men using chairs and the chain to its full advantage. Full punishment was delivered to each other, Boris busted wide open with blood creating a crimson mask. This was definitely a highlight of the evening, as it was not just a phenomenal match but gave an amazing conclusion to one of the best rivalries in British Wrestling. Make sure you check this match out on patreon as it is well worth a watch.
The Main Event
Check out this Rise video which features a brief history of Dr Leonardo Darwin and Big Joe and how they went from being best friend's too bitter enemies.
Big Joe Vs Dr Leonardo Darwin and Little Joe as the referee
What a main event! Prior to both combatants making their way to the ring, several people arrived with an array of lethal deadly toys and positioned them carefully around the ring. This included an ingenious contraption which was a piece of plywood with plastic knives and forks pointy end up stuck to it, as well as a lovely HDTV, plywood with barbed wire and many other little treats. Big Joe made his way to the ring first with his signature skewers in hand (which were used later on in the match). The good Doctor Leonardo Darwin emerged with his little ba**ard son who ponced to the ring proudly carrying the Rise championship in his striped referee top, like a cat who had got the cream. The carnage and brutality that occurred within this match was unreal. The wrestlers were put through TV screens, thrown onto barbed wire, hit with barbed wire baseball bats and tossed onto thumb tacs. Poor big Joe even caught his 'little joes' on some barbed wire. Darwin's illegitimate son was definitely not an impartial referee. The action spilt out into the crowd and even into the bar area where Darwin attempted a submission move on big Joe whilst sipping on a delightful a glass of wine whilst his son played the piano in the background. The lights went out to unearth the conclusion of the match. A mystery figure appeared in the squared circle with a pig mask on. The big reveal of the masked man, was that he was the head of the Darwin household and would you believe it, it was the controversial singer off the telly Wagner. He joined his son in defending his title with a chair blow to Joe. The whole Darwin family celebrated their success whilst daddy/grandpa Wagner serenaded his son/grandson with a vocal performance. Dr Darwin even kept his skewers in his head! The Rise faithful fans were outraged with their antics and chucked empty cans at them. Making a very strong end to the night.
BeerBash!
On 5th May at Duke Studios, Leeds
This show was at a new venue. The venue was a mix of class with a lovely front bar and then the perfect back dark and basement feel room with a bar and beer garden. The show opened will a lot of "wooing" shouts from the crowd and our master of ceremonies the mullet man Johnny Santiago high fiving all.
CJ Banks Vs Saxon Huxley
This was a rematch from the previous Blackout show earlier this year. What more can be said about both these men. They are true technical wizards within the squared circle. Both did their best to beat the other. The ever-popular Muscle Cat Saxon Huxley delivered more mystic fists to his opponent CJ Banks. Or as the crowd referred to him as CJ W**nks due to his hostile bitter approach. However hostile CJ is always great to watch in the ring with his great technical awareness and a brilliant mind for wrestling. The previous Point to the Sign back stabbing feud continued when El Ligeros entrance music was played causing a distraction to the Muscle Cat with disastrous consequences.
England's Hardest Men Vs Mil Martinez
It was time for England's Hardest Men who entered showcasing their awesome new entrance tune. ShreddyBrek jumped straight on the mic to deliver the match stipulation. It would be the other half of England's Hardest Men Luke Nixon with an open challenge to anyone in the back who felt they were tough enough to take him on. Who answered the call no other than the new kid on the block Mil Martinez. This encounter could only be described as a striker vs tactician match. Mil Martinez moved swiftly throughout the match and continued to establish himself as a fan favourite causing there to be some hostility with the England's Hardest Men. Rory Coyle cost them the victory by distraction and Shreddybrek spat beer in Luke's face. What is it that Rory Coyle wants? He seems to keep turning up and distracting everybody within the tag team division.
Brothers Of Rage Vs Lion Kings
More tag team goodness was next which felt like a rematch from Point to the Sign just without England's Hardest Men. This was an absolute corker of a match, giving the Lion King's the perfect platform to demonstrate their full in ring talent. They delivered moves such as hard-hitting lariats, precision suplexes and the odd 20 stone backwards moonsault. The Brothers of Rage displayed just as equally outstanding talent. However the birth of the brand new Rise Faithful chant had all the fans engaged as they declared the smaller Benjii the taller Rage brother and the bigger Joe the shorter Rage brother resulting in "Benjiis really tall, really tall, Joe is really small". The Brothers retaliated to this chant as Joe threw the Lion Kings around like rag dolls and Benjii flew around the ring landing quick kicks and performing jaw dropping top rope dives. This match was getting all the fans behind both teams until it was rudely interrupted by that pesky annoying Rory Coyle, who stuck his beak in once again. This time Coyle made his intentions very clear, he wanted to be part of the ever growing, strong, impressive Rise Ascent tag team division. He called out the Britain's Hardest Men from the back and issued a challenge, saying he could be any tag team with any partner. But the silly fool did not bring a partner this time and practically got his head kicked in by all the other teams.
Boy 2 Vs Danny O'Doherty Boxing Match
This is definitely the most unorthodox boxing match in history. Queensberry rules we're certainly not in effect. Boy 2 appeared with amateur head padding and a slightly sozzled appearance (probably for dutch courage), accompanied by Boy 1. But Danny had no head protection whatsoever. The rules of the boxing match were that after each 3 minute round the wrestler/boxer would go to his corner and start guzzling on some tasty alcoholic beverages. There would be three rounds. Danny the man of many beers took pity on the young Boy 2 and suggested Dark Fruits as his beverage, as there was no chance that he could handle proper alcohol. Hard punches were landed throughout, as well as some very unorthodox kicks to the goolies and a few wrestling moves. But by the third round Boy 2 was proving Danny right as he stumbled around the ring inebriated. In the final round the debuting Martin Kirby interrupted both boxing/wrestlers. He stated that Rise was a dump and the faithful were p*ss heads and that everyone should get their act together. Danny did not take lightly to this and turned his back on Boy 2 resulting in him receiving a knockout tinny hand blow.
Martin Kirbys Promo
Once Danny had retreated to the back Martin Kirby issued an open challenge. In his words "to any w****r in the back". Big Joe emerged to accept the challenge. However Sean Only and HT Drake gate crashed the challenge, to lay a sneaky beating into Joe. But the Mad Russian Boris Koslov and Sexual Gammon Gene Munny counter ambushed the attack. Gene Munny was supposed to be challenging Leonardo Darwin for the Rise Championship belt, however with Darwin being absent due to him getting his kicks in Thailand it left Gene with no opponent. Boris Koslov was scheduled to face HT Drake it was decided that all 6 man would face off in a Falls Count anywhere match for the main event of the evening.
Michael Caden Vs Kid Lux – Fans bring weapons, Hard-core Match
The returning Dutchman Kid Lux made his way to the ring. His opponent for the night was Mr hard-core Michael Cayden. He emerged from the back with a stack of fluorescent strip light tubes which he placed in a corner. Two more stacks of light tubes appeared in different forms. There were scenes of pure pain as the light strips got used to hit each other over the head or slam them through. As if this wasn't enough there were painful chair shots, including Cayden landing on a chair with tremendous force. A leek also felt the force of these two hard-core wrestlers.
Little Miss Roxxy beat Lizzy Styles
Two of Britain's best female wrestlers who always put their all into their matches to deliver high quality entertainment. The ever popular Little Miss Roxy truly had the fans behind her every step of the way as Lizzy Styles practically got booed out of the building. Both athletes executed a range of fantastic moves using every part of their body as a weapon, the match finish was truly innovative.
Danny Hudson Promo
After a short break the scouse ginger Danny Hudson emerged from the back to shoot a promo. Danny got into the face of the fans before making a beeline for the Grafter David Graves. David is out of wrestling action due to an injury from a match with this very man and had resided to being the resident DJ for the evening. What a banging job he was doing, keeping all the tunes playing smoothly. Danny took to the mic to gloat about how happy he was that he had injured David calling him useless. But David wasn't standing for this and made his way to the ring to confront him. Danny soon retreated to the back. David Graves still stands tall despite his injury!
Boy 1 Vs BA Rose – Rubber Match
This encounter was a rubber match between two highly skilled athletes, it certainly wasn't obvious who would come out on top. We knew we wouldn't be able to blink in this match as both had previously proved their talents against each other with a win each. BA Rose maybe big and hard but he is also extremely agile and can push his way around whenever he likes. Boy 1 is small, fast, innovative and nimble on his feet. The amonosity was evident as both men wanted that final win. Boy 1 brought Boy 2 as moral support but he seemed to get more in the way as he was even more inebriated from his boxing match, touching on sozzled. Boy 1 took quite a beating but just kept bouncing back for more and more. A true highlight was when Boy 1 climbed up a bar like our very own Spiderman, then turned around and landed perfectly on to BA Rose. To re live the real action of this match head over to Rise and watch it in its full glory on their Patreon channel.
Main Event- 6 Man Elimination: Gene Munny, Big Joe and Boris Koslov Vs Sean Only, Martin Kirby and HT Drake,
The main event of the evening was set up earlier in the show resulting in two teams going head to head. Martin Kirby, Sean Only and HT Drake Vs Big Joe, Boris Koslov and Gene Munny. It was an all-out brawl with no tags, just hard hitting action that spilt all around the venue, including outside and onto the road where cars and passers-by watched in confusion. Wrestlers were thrown into fences, chairs were used and even a bottle of coke was used! (Which was brought by a fan as part of the 'fans bring your own weapons match' earlier). Sean Only and HT Drake pounded Boris with chairs, leaving him incapacitated for a while then they took this advantage to pick off the rest of his team. Not only did Drake, Kirby and Only cover Big Joe but both Boy 1 and Boy 2 came out from the back and piled on top of big Joe for a three count. Boris managed to get a swig of his vodka which re-sparked his Russian fury. He then crawled back to the ring where his fury took over him and he proceeded to eliminate Sean Only and HT Drake, leaving himself and Martin Kirby as sole survivors of this elimination match. Unfortunately referee cowboy John got knocked out during this this time, but Danny O'Doherty came to make the referees count to help his mate gain the victory. He arrived with a pint in hand and saluted Boris with a 'cheers' as Boris supped some vodka. Boris took his position to pin Kirkby but Danny back stabbed him by dropping to his knees and delivering a low blow to Boris's crown jewels. Kirby then took the win leaving all the fans in shock. Why would Danny turn on his good friend? Both Boris and Danny stared at each other, then Boris took to the mic to ask Danny "Why"! Danny did not give a real reason just that "I'm sick of you, I am sick of all you're drinking" before leaving to the back. This ended yet another epic story driven Rise show and lots of confused faces wondering in what direction Rise would be heading to next.
Highlight Reel
Here's a Rise video containing highlights from the Beer Bash show.
The Ascend Tournament
On Saturday 2nd June at the Temple of Boom
Temple of Boom is a well-liked venue within the wrestling community. It has a warehouse and almost a mini street feel. There are three separate rooms, one where the food bar and wrestling ring is situated which leads on to an outside area with seats, there is then the two other rooms just situated off here, the drinks bar area with a small dance floor, dj booth and down a corridor a dark room with a stage for bands to play. So it's up to you where you choose to spend your time. In the food bar area they serve some lovely homemade vegan food, including dishes such as curry, chilli, burgers and chips. The prices of drinks and food are very reasonable.
First Quarter Final of the Ascent Tournament
Boris Koslov Vs Martin Kirby
Boris emerged with full support from his Rise faithful fans as they chanted his name. Kirby entered to boo's and one fan attempting a CM Punk chant which was laughed out of the building. Both of the men got down to business and boy was it business. Boris used every tool in his arsenal including his signature Russian leg drop, his second rope shoulder tackle and some magnificent submission techniques. However Kirby fought back just as hard as Boris. Kirby is a thinking man's wrestler who will attempt to win by all costs and humiliate his opponent whilst doing it. He displays quick reflexes and has hard kicks.
I could have watched both these men battle each other for weeks upon end however they are so evenly matched that the match went to the 15 minute time limit. This caused both men to be eliminated out of the tournament, but Boris wasn't happy and asked for more time. Kirby did not want more time with Boris and walked out of the building stating "he wasn't warmed up!". This meant that the winner of the next match automatically got fast tracked to the final. The match was Sean Only Vs Boy One.
Sean Only Promo
Sean came out and took straight to the mic. He address the crowd to explain his views on Rise, that they had screwed him over and treated him like the underdog and held him down. He said to the crowd "We know who I am referring to, Don't we Bonny lads and lasses, F*ck Rise Management". He continued to state that he had never been in the Rise click and to compensate for this he had brought in his good mates Boy 1 and Boy 2. He truly believed that both Boys were talented and made reference to them continually stealing the show. He said that in his match against Jack (Boy 1, he used his real name), regardless of who won the other man would raise the other man's hand.
Are we witnessing a new Sean? Had Sean really turned over a new leaf?
Second Quarter Final Match
Sean Only Vs Boy 1
Jack (Boy 1) arrived to the ring and was overjoyed that Sean had used his real name and exclaimed "he called me Jack". They showed their mutual respect between each other before the bell rang with a handshake. Sean showcased his striking capability's to full effect within this match. Boy 1's fast pace and unorthodox style put a shock on Sean's face! This included moments like, Boy 1 hanging off the beam and waiting for the right moment to strike down. Both men truly gave it their all but Sean was the overall winner, finishing the match with a last caress to progress onto the next round. He picked up his fallen friend Boy 1 and congratulated him, said thank you for a great match. It looks like Sean has changed and truly turned over a new leaf.
RISE Women's Tournament First Round Match:
Mischa East Vs Roxxy
This is the very first match of the Women's Rise championship, where an eventual winner will be crowned later in the year or early 2019. This was Mischa's debut to Rise, we had never seen her wrestle before. Mischa arrived first into the ring and began to goat the audience. Roxxy then entered to the admiration of the fans, but Mischa didn't like this and attacked her before her entrance music had finished by pulling Roxxy into the ring by her hair. Both women put on a fun match that all the fans enjoyed. Mischa was a strong powerful competitor however Roxxys agility gained the upper hand and she defeated Mischa with her signature innovative Boston crab submission move.
Leanne's Interview
We had a short break from the wrestling, as Leanne the Rise Interviewer stepped into the ring with her phone in her hand and live on Facebook. She exclaimed that the current Rise champion Dr Leonardo Darwin had demanded that she interviewed him and that she had no choice. She introduced the disliked Dr Darwin who entered accompanied by his ba**ard son little Joe and stated to Leanne that he was going to perform a live sex show. In response to this comment Leanne said no and introduced 232lbs of sexual gammon 'Gene Munny'. He strutted his stuff in his very sexy pineapple jumpsuit and nipples covered by cardboard pineapples. But Darwin retaliated when he got too close to him and stated "You cannot touch me or you will lose your opportunity for the title tonight" Both men then sat down for their interview where Darwin declared that he was not physically or medically able to compete in the title match as one thing may have led to another while he was on his holidays in Thailand. Gene started a chant 'You've got (Clapped) the whole of the fans joined in. Darwin continued to say that due his medical issues an American Challenger who was due to be in the tournament would be taking his place as he knew they were good enough to defend the title for him. Leanne then took the mic off Darwin, wiping it on her t shirt in disgust before passing it to Gene who accepted the challenge. However Darwin continued to insult Gene, goading him to hit him, but knowing that he couldn't hit Darwin he said 'doesn't mean I can't knock your son's head of' then landed an Ainsley Lariott onto Little Joe. Then Gene got all the fans dancing.
So with the American wrestler now challenging Gene Munny later on in the title match who was going to take on Dom black?
Third Quarter Final Match
Dom Black vs ?????
Dom Black made quite an entrance for the fans with his over confident and arrogant manner, whilst gyrating his hips on the fans to the Living La Vide Loca song! He got the fans all pumped up for his match and announced that he, the 'Spermicidal, Domicidal, Breath Defying, Pork of York, the one that never fails, The Hot Blooded Male Dom Black was ready to take on anyone that walked through the door as he was going to win'. All of a sudden the familiar 'Reach out and touch faith' music hit and out came 'The Pastor William Eva'. Pastor had been out of action due to an injury from another promotion, putting him out of action for near on six months. He is a past Rise Champion and the 2017 Rise Ascent Tournament winner! Now he is back to reclaim his throne at the top of the Rise roster and what was rightfully his! (In his eyes,) The Pastor used his mystic powers to force Dom down to his knees then pushed his hands together to make him pray. Dom retaliated and did some quick and fast paced moves but this just caused Pastor to unleash his full wrath and defeat the Pork from York to advance to the next round.
The fourth Quarter Final Match
Amir Jordan vs HT Drake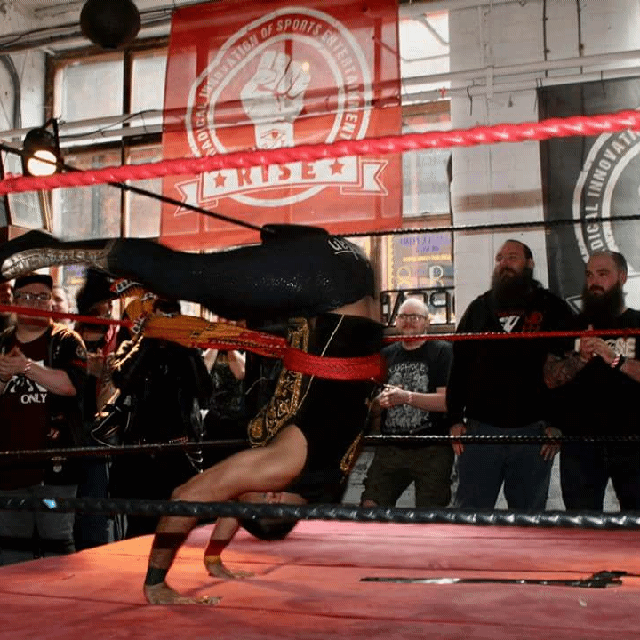 Amir Jordan made his way to the ring with as usual flamboyant charisma style doing the lightbulb dance to Punjabi MC. The whole of the Temple of Boom got behind Amir, joining in with his dance and cheering him on. Amir must have the longest entrance in history, he finally made his way to the ring after dancing within the crowd to continue his dance but HT Drake came out of nowhere and hit him in the back obviously he wasn't too impressed with Amir's gimmick and was out to kill it. However after recomposing himself, both men had a brilliant match which included fast paced moves and hard hitting action. Drake positioned Amir into the ropes and started pulling on his leg to cause damage and make it hard for him to stand up, but this didn't stop him and he managed to gain momentum somehow to defeat HT Drake and advance to the next round all be it with an injured leg.
There was a 45 min break so that people could go and get food or go listen to the live bands who were performing at the other side of the venue.
Ascent Semi final
Amir Jordan Vs The Pastor William Eaver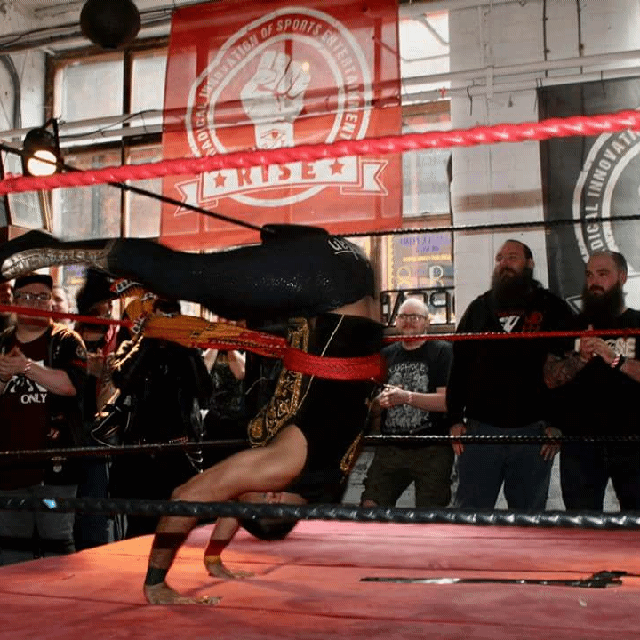 The Pastor made his way to the ring first and was shortly followed out by a less energetic and limping Amir Jordan after his altercation with Drake in the quarter final match. (This was a slight moment of dejarvu as Amir was also injured when competing against Pastor William Eaver in last year's 2017 Ascent Tournament, which Pastor won). Pastor showed his sensitive side as instead of taking advantage of Amir's injury he offered him his healing hands to heal his poorly knee. He put his hands on Amir's knee and used his powers of god to make the injury disappear, Amir smiled and as he bent his leg stated 'mines Allah but it worked'. Then both men put on a brilliant display of British wrestling to determine who would advance to the final. Both wrestlers are equally skilled and very evenly matched in their own style of wrestling but on this occasion it was the Pastor William Eaver who advanced to face Sean Only in the final.
Women's Championship Tournament
Voodoo Queen Amarah vs Lana Austin
This was another opening round match for the Rise Woman's Championship Tournament. The Voodoo Queen made her way first to the ring in a tribal manner but was shortly followed by her opponent Lana who entered full of sass and confidence, teasing the fans. The match started with chant of 'Voodoo is going to kill you'. This was Lana Austin's very first Rise show and even though mocked the fans everybody enjoyed her antics. She tried to push fans into replace her, pinched drinks including, called them losers and mimicked a suck it chop towards them. She attempted to back her bottom up into Voodoos face only for the Voodoo Queen to cast a tribal power and freeze her then she put referee cowboy John in her place to receive the encounter. Voodoo was not an easy opponent and handed out some killer moves taking advantage of her superior strength in the match. Lana displayed outstanding skills and ring ability throughout. It all ended in controversy when Voodoo (in true great Muta style) created a green mist and took the upper hand and victory.
World Of Sport Match
Big Joe vs Joe Vega
Big Joe had already got the fans behind him as he got them involved using social media prior to this match by stating 'that he wanted someone in his corner for this match'. However on the night he did not just pick one corner person but he decided on three, including the local well-known fan Super Gran and two others. The rules of the match were that, after every 5 minutes there was a short rest break for both men to go to their corner and recompose themselves. This is where Big Joes corner guys were instructed to get his chair out ready and supply him with a sip of alcohol. The match continued after 5 minutes, we saw some traditional world of sport moments including lockups and big Joe performing a big drop kick. However eventually Big Joe got bored of traditional wrestling and said 'let's turn this match into a mosh pit match'. He then proceeded to drag Little Joe to the other side of the building where the music was being played and beat him up within the middle of a mosh pit. This included him holding Little Joe whilst a band members performed a chop on his chest, whoooo!! They eventually made it back to the ring where Little Joe hit Big Joe over the head with a chair, resulting in him being disqualified and Big Joe challenging Little Joe to a Death Match at the next show. The Bug Joe and Darwin family feud continues.
Danny O'Doherty explains himself
The ring announcer Johnny Santiago stated Danny O'Doherty had decided that he wanted to explain himself after he had been expressing through social media that he was a changed man, he was no longer under the influence of alcohol. Surely this was a good thing! We should support people who attempt to better themselves. But Danny seemed to have gone about it in the wrong way, he had betrayed his friend Boris (who likes a swig of vodka or two) back at the BeerBash show, who not only was meant to be his good friend but is a fan favourite. As you can imagine this did not sit well with the Rise faithful fans.
So the entrance music struck and it wasn't his usual, no it was Michael Jackson's Man in the Mirror. Danny entered looking very smart with a full brown suit, his hair all tied up and a hand held mirror. He walked in admiring himself in the mirror before pointing it to the fans telling them to at themselves and 'make a change'. He wasn't on his own though, he had brought in lackies, a bodyguard and a Jedwood lookalike apprentice. (Known on the british wresling seen as Ragnar and the opportunists Myels Kayman.) He explained why he had chosen these guys, Ragnar had just been released from prison and wished to turn his life around, Myles is a young man who had just sat his GCSEs and isn't stupid enough to waste his life on alcohol. Together they were going to clean up Rise by, banning all beer, no standing (everybody would sit in rows) and no hard-core division.
Danny continued to explain how he was grateful to a man who had opened his eyes up to make the change. He then invited Martin Kirby to the ring to join his stable which he accepted. Danny also stated that things would not have changed without the help of HT Darek and also invited him to join his crony crew witch he did. Danny celebrated with his new crew, which he had called S.O.B.E.R (Social Order for Behavior, Education & Rehabilitation), but Boris interfered and began a beat down on Danny. But Danny's crew got involved to help Danny and overpowered Boris, who then ended up being the one that was being beaten up. Luckily the most unlikely person appeared to help Boris, it was his old arch nemesis Sean only, did this mean he really truly turned that leaf over? The answer is No, as soon as Boris's back was turned, Sean attacked him with a chair and then Danny and his henchmen re-joined him to beat Boris down and remove him from the building. Danny then asked Sean to join his stable and to bring out his boys to also join. The boys arrived to the ring and were told what was happening, Boy 1 was hesitant but Boy 2 liked the idea. Boy 2 began to celebrate with a can of Dark Fruits which did not go down well and ended up with both boys being beaten by S.O.B.E.R. Once they had finished they left the boys in the ring. The Boys decided to discuss what they would do next. Their decision was displayed by them ripping off their Sean Only t-shirts. In response to this the fans cheered and chanted "boys to men" and David Graves played 'The End Of The Road' across the tanoid.
Sambuca street fight
Michael Caden vs Darko
The rules of this match were that after every 3 minutes each competitor would down a shot of Sambuca. The match was well underway both inside and outside of the ring with them both slamming each other against the outside wall, through tables, wheel trims and into bins. However it was only short as it was rudely interrupted by the SOBER faction led by Danny O'Doherty who arrived to shut it down. They were not happy as not only did the match consist of consuming alcohol but it was a hard-core match to. They took the fun tacks and the Sambuca and Danny said that all hard-core matches were banned! Boris appeared to help Caden and Darko which ended up setting up a match for SummerSesh Boris Vs Kirby, the loser leaves Rise for good.
The RISE Tag League Contract Signing
Santiago hosts the 8-team contract signing & tag league live draw
Each respective team made their way to the ring. The teams were, England's Hardest Men, Brothers of Rage, The Lion Kings and Michael Caden and Danny Darko who decided to join forces and create the tag team Hardcore Connection as well as Sons of Ulaid Rory Coyle who appeared yet again with no tag team partner. Rory sat himself in the corner of the ring. New kid on the block Mil Martinez rocked up looking like he wanted to propose a team up with him. However Rory took to the mic and said something along the lines of 'you're not the only sick boy around'. Then the debuting Screwface made an attack on Martinez from behind, causing a ripple effect as an all-out tag team brawl erupted. Screwface seemed to team up with Rory, is this his new partner? The action didn't just happen inside, as the majority of the tag teams spilt outside where bins and other toys were utilised leaving England's Hardest Men and The Brothers of Rage inside. The Brothers of Rage seemed to have the upper hand for most part of this match as Luke Nixon took a beating but once he eventually found the strength to tag his partner Shreddy with a hot tag, Shreddy raged in the ring and managed to get the pin. This meant that England's Hardest Men are now top of the tag team league. Since this show Martinez has taken to social media to explain his intentions. When no one was looking he signed the tag league contract adding himself and a mystery partner to the league! Who could his partner be? Only time will tell.
RISE Championship Match
Gene Munny Vs Mystery American Opponent
Two hundred and thirty two pounds of sexual gammon made its way to the ring in the form of Gene Munny. He took straight to the mic and asked to borrow a phone off someone, then proceeded to ring Papa John's to order himself a pizza with extra gammon, this was reminiscent of last year. The pizza guy told Gene it would take 15 minutes, and Gene replied that's great, its plenty of time to win the title belt. It was now time for the big American name to make his way to the ring. This had been the talk of the night and so much speculation had arisen as to who it could be. The music hit and out materialised a group of guys all dressed in American flags and attire who set alight some sparklers for the grand entrance of the American opponent. The little ba**ard Joe also made his way out closely followed by the main man who looked very similar to Darwin. It was apparently Darwin's cousin Dalton, who sported some very interesting, let's say amateur wrestling headgear, a traditional wrestling leotard and a very funny bald head that looked more like a giant knob. It was actually Darwin just trying to play mind games. The bell rang but the match received interference by Little Joe and his American rookies, but the referee Cowboy John soon put an end to this and ejected them to the back. Both wrestlers put on an absolute gem of a match, it had hilarious spots as well as a display of brilliant British wrestling. The pizza eventually turned up with a masked pizza delivery man who went to give it to Gene but all of a sudden proceeded to use it as a weapon by whacking Genes head with the box. It wasn't really a pizza it was an empty pizza box with a piece of wood inside and the delivery man was little Joe in disguise. However this set back did not deter Munny who managed to come back from this altercation and deliver an Ainsley Larriott on Little Joe. But Gene was still unable to pick up the win due to the Darwin families deviant tactics.
The Muscle Cat Saxon Huxley open challenge.
The Muscle Cat Saxon Huxley Vs ?????
Saxon arrived with a melon in hand after his recent appearance in Smyths Superstores advert for a new game called 'Watermelon Smash'.
Saxon waited to see who was willing to challenge not only his mystic fists but now his melon in an
open challenge match. Rory Coyle appeared first and made his way to the ring, where he kissed a fan on the forehead. However this was not his challenger, his challenger was Coyle's new tag partner Screw face. We had seen Screw face at several other promotions and knew that he would be a worthy opponent for Saxon and an asset to the Rise roster. Both men proceeded to batter one another and possessed great in ring ability and strength. The action was so impactful at one point that it led to the top rope of the ring breaking and Saxon falling to the outside. Luckily he wasn't to hurt and carried on with an outstanding performance. This match was yet again broken up by more mind games from the Mexican Sensation El Ligero who had turned on The Muscle Cat in Point to the Sign. Ligero appeared from behind in his heel attire and attacked Muscle cat while the referee was not looking. Screwface took advantage of this and pinned Muscle Cat for the win. But the action hadn't finished as Gabriel Kidd made his debut to Rise by appearing from nowhere to attack Ligero and cause him to retreat. We look forward to seeing more of Gabriel in future shows.
Ascent 2018 Tournament Final
Sean Only vs Pastor William Eaver
The main event of the evening was the final of the Ascent tournament 2018 and the winner of the match would advance on to challenge Darwin for the Rise Championship at the next show. Sean Only made his way with his new faction SOBER and within minutes of the bell been rung, the Pastor busted Sean Only's nose wide open. The action displayed in the ring showed how much both men really wanted the Number One Contendership. They both gave it their all. The action was not just within the ring but spilt out to the outside and even over to the bar area. Despite Sean having the support of his new stable SOBER, Pastor William Eaver was still able to overcome the numbers and became triumphant winning the 2018 Ascent Tournament and becoming The Rise Number One Contender.
So this is truly Britain's Maddest Wrestling Show. Want to find out more or go yourself, then check out their social media where you will find information on upcoming events and excellent videos and photography. They have the social platforms; Facebook, Twitter, Instagram and YouTube (click on each platform to take you there). Rise have their very on Patreon page which for the low fee of under £5 you can get VIP access to old shows as well as exclusive access to upcoming videos before everyone else. It is well worth the price check it out here
To follow the wrestlers who have been featured in this review, click on their name below and it will direct you to their social media Twitter page; RISE
Sean Only, Boy 1, Boy 2 , Mil Martinez, El Ligero, Saxon Huxley, Gene Munny, Amir Jordan, Voodoo Queen, Danny Darko, Dom Black, Kid Lux, Michael Caden, Big Joe, David Graves, BA Rose, Englands Hardest Men, ShreddyBrek, Luke Nixon, The Lion Kings, The Ugandan Warrior, Sebb Strife, The Brothers of Rage, Benjii Rage, Joe Rage, Rory Coyle, Little Joe Vega, Dr Leonardo Darwin, Danny O'Doherty, Boris Koslov, CJ Banks, Martin Kirby, HT Drake, Little Miss Roxxy, Lizzy Styles, Danny Hudson, Myles Kayman, Ragnar, Micha East, Lana Austin, The Pastor William Eaver, Screwface, Gabriel Kidd, Johnny Santiago, Leanne, Cowboy John Parker, Rich Swift
Photo Gif Credits to;
BeerBash; Jacque Spaul
Point to the Sign and Ascent; Sean Joseph Potts
Past Show Reviews;
Ascent Tournament 2017 (09/07/17 & Summersesh (25/08/17), The Boris Bus Invades TNT (28/09/17) can all be found on our website by clicking HERE;
Blog Spring Wrestling Review; RISE Rumble (05/01/18), Blackout (03/03/18) which can be read by clicking HERE.
We are HMGW. If you enjoyed the article please follow us on Facebook (Click here) and Twitter (Click Here).
HMGW are proud to be part of the Two Rivers Radio family. Tune in every Monday 12 -11pm by clicking here. Follow Two Rivers Radio on Facebook (Click here) and Twitter (Click here).
#RiseUndergroundWrestling #Events #WWE #wrestling #Entertainment #18Wrestling #WrestlingReview #BritishWrestling #Leeds