HMGW Reviews; A New Era for True Grit Wrestling
It has been over a year since we have done a review. Since True Grit Wrestling are beginning a brand new journey in a brand new venue in York (Our hometown) we thought it was only fitting to cover this fun-filled show.
On Saturday the 21st of September True Grit hosted the event 'New Era'. A perfectly suited name for this as it was their first show since the announcement of the closure of the much-loved Fibbers venue. Their new home in York is Millthorpe School. This is situated in the South Bank area of York and has been a school since 1920. I am sometimes sceptical about shows held in big halls, they can sometimes seem overly big for independent wrestling shows and the acoustics of the building can be overly echoey. It's not a big deal to me but stereotypically wrestling shows held in schools don't sell adult beverages, I believe True Grit (TGW) struck gold with this venue. It was a good size, had bleachers and great acoustics. Once the matches started the lights were dimmed bringing more emphasis and focus on the wrestling ring. They also hired in a licensed bar, a can of Coke Zero and a pint of Hobgoblin cost £5.50. Leanne was our announcer for the evening and our referees were Neil and Scott. Over the last week and a half before the show TGW have been releasing video promos to hike the event. All these were very well done and added backstory to each match, hopefully it is a trend that True Grit will follow in the future. Match ups
The show kicked off with the 'Devil's right arm' Jack Turner vs 'The Grafter' 'The White Rose', 'The 80 minute man' David Graves. This was Jack Turner's debut for TGW, he is a man who is taking 2019 by storm. At the beginning of the year I was lucky enough to have him as a guest on our radio show (click here), ever since he's made debuts and won titles all over the place. This was also David Graves first match back at True Grit since his injury, he looked in amazing shape and the hard work to return to form was apparent. Both gladiators had swanky new gear, Turner a shiny new coat and Graves a purple waistcoat along with a Yorkshire flag. The match was like fisticuffs at dawn both men literally trying to beat the hell out of each other, running shoulder tackles with no one
bugding and Jack seemed to have a slight strength advantage manhandling David at times. David however took every beat down Jack delivered and used technical prowess and a pinpointed elbow drop to a standing Jack Turner. David picked up the victory via submission using a move that looked very similar to the classic crossface chickenwing. This makes both men 1 for 1 within British wrestling. You can watch their previous encounter at Grapple wrestling by clicking here. I am hoping there will be a rubber match at a promotion down the road soon.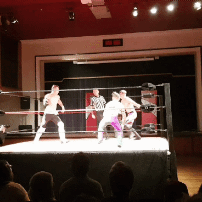 Match 2 was an acrobatic feast for the eyes, a triple threat match featuring Joe Wade vs Joe Nelson vs Jack Bandicoot. The audience were hyped at the prospect of what this match could bring as chants of all three athletes were heard. The three young high flying talented men throughout the match tried to get one up on the other two's ability. Hard hitting kicks could be heard throughout the venue and all three lads took to the air at one point or another. If you blinked then you would have missed something spectacular. Joe Wade picked up the victory with a 450 splash onto both of his opponents, just after Joe Nelson performed a sliced bread and attempted to pin Jack Bandicoot. We have always held all three young men in high regards for their wrestling abilities. Over this last year Joe Wade seems to have come into his own, hopefully we will start to see this young man booked a little bit more just like his two fantastic opponents.
Every good British Wrestling Show needs to add that classic British witty comedy we are famous for. Match 3 of the night was Wing Commander Nash vs Boris Koslov. Nash made his way to the ring interacting with the audience then falling flat on his face upon entering the ring (vintage Nash). He was sporting his brand new tights and a t-shirt that said 'Irish Whip' He wasn't too impressed by my you've been whipped by an Irish girl' chant. Once Boris was in the ring the shenanigans began. These included; Nash accusing Boris of being a drunk, Boris hiding under the ring, a game of cat and mouse around the ring, Boris saying look up then slapping Nash, Nash trying to do the same but failing miserably, Boris riding Nash like a noble steed or was it a donkey? There was the odd bit of wrestling thrown in there too. A flying Russian (Second rope flying shoulder tackle) headlocks and takedowns and a failed aeroplane spin by Nash. Boris ended the match with a stunning Russian (stunner.) This was a fun match that put smiles on everybody's faces. Boris is renowned for his technical wrestling ability Nash is one of the best comedy wrestlers in England. Both men are capable of matching each others style. Personally I would have liked to see a little bit more structured wrestling throughout the match however it was a thoroughly enjoyable comedy match that left a smile on my face.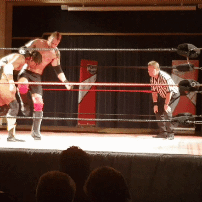 The Number One Contenders match was match 4. It was announced that B.A Rose was unable to attend the show, so whoever won between Sean Only vs Nsereko would be facing Dom Black for the TGW Championship. At True Grits last show Homecoming the main event was Nsereko vs Dom black, this ended with some controversy as Neil the referee was accused of not counting correctly allowing Dom Black to retain his title. The match started with a few strikes from each opponent. Sean then suggested they had a wrestling match not a strike down and proceeded to offer Nsereko his hand in a lock up, once both men were locked up Sean used his educated feet to strike and Nsereko. Throughout the match Sean seemed to have the upper hand when it came to striking and abused 5 count rope breaks and Nsereko got in in his patented Ugandan head butts and
Ugandan (Samoan) drop. Sean delivered a beautiful cutter but was defeated by Nsereko after what looked like a modified Rock Bottom / Bookend. When Nsereko pinned Only referee Neil was very reluctant to deliver the three count. After the match Nsereko got in the referees face but this was broken up by a visit from Sebb Strife and Dom Black. Neil declared that he was paid off at the previous show to sabotage Nsereko by ensuring that he did not win, he revealed the person who paid him off was no other than Nsereko's tag partner and Lion King brother Sebb! Could this really be true?
After a short interval the wrestling was back, Dara Diablo vs Sebb Strife was match 5 of the night. Heavy thuds could be heard throughout the venue as both men slammed and dropped each other into the mat. The action spilt outside the ring and it looked like Sebb
was going to deliver his patented frog splash but it was thwarted by Diablo. Both big guys put on a great match Diablo bending the rules where possible, the audience didn't seem to get behind Sebb as much as they usually do this may have been down to the allegations just before the break. The match ended with Diablo throwing his jacket at referee Scott to distract him and then pulling out some knuckle dusters from his leotard and hitting Sebb right in the kisser for the pin.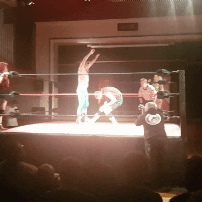 Match 6 gave us some intergender tag team action with Chuck Wood and 'his Sister, Wife ' Jenny in the Wood vs Natalie Sykes who had friend-zoned the Pop Punk Kid. Both men started off in the ring, once Pop Punk Kid had stopped shouting at the audience. After an exchange of wrestling manoeuvres Chuck challenged Pop Punk Kid to what I can only describe as a get frisky off. Chuck proceeded to hug his sister/wife and challenged Pop Punk to do the same with Natalie this then escalated into a kiss on the lips, but when Pop Punk Kid tried this with Natalie the friend zone status was in full effect. All four wrestlers mixed it up with each other within the ring and I was pleasantly surprised with Jenny's in-ring abilities as this was the first time we had seen her wrestling. Jenny rolled up her shorts and got ready to perform a stink face on Natalie, however Pop Punk became a knight in shining armour and offered to take one for the team, he enthusiastically swapped places with Natalie. Once he was in place patiently waiting for the night of his life, Jenny demanded he closed his eyes. As requested he shut his eyes and puckered up ready for a good time but it was about to be shattered. Jenny quickly swapped places with Chuck and proceeded to drop his cut-off jeans and pulled up his kecs to reveal his buttocks and delivered a stink face that Rikishi would be proud of. I don't know if it was the whole spot or the look of disappointment or even me thinking that Pop Punk Kid is a stink face receiving veteran after previously receiving a stink face from UK Pitbull legend Bulk in a different promotion (who in fact has stinkfaced the innovator of stinkfaces Rikishi), but the majority of the rest of the match was a blur. I believe the friend zoned pair picked up the victory by roll-up and Pop Punk Kid cheated using his feet on the ropes.
The main event of the evening which was set up earlier was for the True Grit Championship featuring champion Dom 'The Pork from York' Black vs 'The Ugandan Warrior' Nsereko. It was made clear before the participants arrived in an awkward spot for Leanne that the referee for the main event would be Scott keeping Neil away from any possible shenanigans. Nsereko arrived to the ring to the song Sitya Loss which he has been using in singles competitions recently, this is sang by fellow Ugandan Eddy Kenzo. It's a great tune which means never give up, I first became familiar with this song when interviewing the Ugandan Warrior last year, check it out by clicking here. Champion Dom Black made his way to the ring with his patented dickie bow and red roses, this time he chose to throw them at the bartender. This was a belter of a main event as both athletes displayed styles that complemented each other. I believe that Dom Black has come on leaps and bounds with his wrestling ability in the last year. Sean only made his presence felt at ringside but was soon dispatched by both wrestlers and retreated to the back. The wrestling spilt all over the venue including both men climbing up into the bleachers and then Nsereko throwing Dom Black through a load of chairs. At a point in the match when the action returned to the ring referee Scott was knocked unconscious. This only meant a different referee was needed, so who arrives, Neil. Giving Neil the opportunity
to come to the ring, on entering he picked up the True Grit Championship and passed it to Dom who then revealed it was him who paid Neil off as he wanted to keep the title in York. He went to hit Nsereko with the belt but Nserekos Lion King Brother Sebb dashed from the back to prevent this. Nsereko managed to score the pin after a seated power bomb and become our new True Grit Champion. The celebrations began and all of the face wrestlers came to the top of the stage and applauded Nsereko, whilst Graves and Sebb lifted him onto 'The big cat' Sebbs shoulders to present the new champion.
This was a fun-filled evening of wrestling suitable for the whole family and we would highly recommend you check out True Grit Wrestling the next time their in York or at another venue.
Make sure you checkout True Grit Wrestling on social media for upcoming events. Instagram Twitter Facebook
We are HMGW, if you enjoyed the article please follow us on the following social platforms; FACEBOOK TWITTER INSTAGRAM
#TrueGritWrestling #WrestilingReview #York #JackTurner #DavidGraves #MillthorpeSchool #SouthbankYork #NewEra #JoeWade #JackBandicoot #JoeNelson #WingCommanderNash #BorisKoslov #DomBlack #Nsereko #SebbStrife #DaraDiablo #TheLionKings #SeanOnly #JakeSilver #PopPunkKid #NatalieSykes #ChuckWood #JennyfromtheWood #IndependentWrestling #Wrestling #BritishWrestling #WWE #IndependentBritishWrestling #NXT #AEW #LeanneMarieAnnouncer #RefereeNeil #RefereeScott #CokeZero #HobGoblin #Stinkface #Rockbottom